40g
Acacia honey & Rémy Martin cognac
Aromatic and silky
Hédène's honey and cognac preparation mixes the full-bodied aromas of Rémy Martin Cognac with the delicate taste of acacia honey, in a recipe with exceptional aromatic richness.
| | |
| --- | --- |
| France | Liquid |
| Scented | Moderate |
Description
Spirits prized for its opulent fruity accents, Rémy Martin cognac is harmonious and silky. With Hédène acacia honey, it magnifies the treasures of the vines and the hive.
Renowned for its exceptional sweetness, Hédène acacia honey achieves a perfect harmony with the aromatic notes of cognac. This 100% French union is enhanced by pickled raisins. Steeped in this bewitching nectar, the raisins reveal the aromatic complexity of this nectar, with fruity and spicy notes.
TASTING ADVICE – BRUNCH
This honey and cognac preparation is perfect for any treat : on crepes, waffles or pancakes, this secret ingredient will be a delight.
It can also fit into a cheese platter containing Roquefort cheese or aged parmesan cheese.
Made of 2.5% Rémy Martin cognac, this preparation with rich and persistent aromas will offer you an exceptional taste experience.
Ingredients: French acacia honey 94.5%, organic raisins 3%, cognac Rémy Martin® 2.5%.
Nutritional values 100g:
Energy: 1272kj/304kcal; Fat: 0g of which saturated fatty acids: 0g; Carbohydrates: 82,4g of which sugars: 82,12g; Proteins: 0,3g; Salt: 0,01g.
Price/100g: 24.75€
Suggestions you might like
Suggestions
French honeys grand crus box
Fine and elegant
16,97 €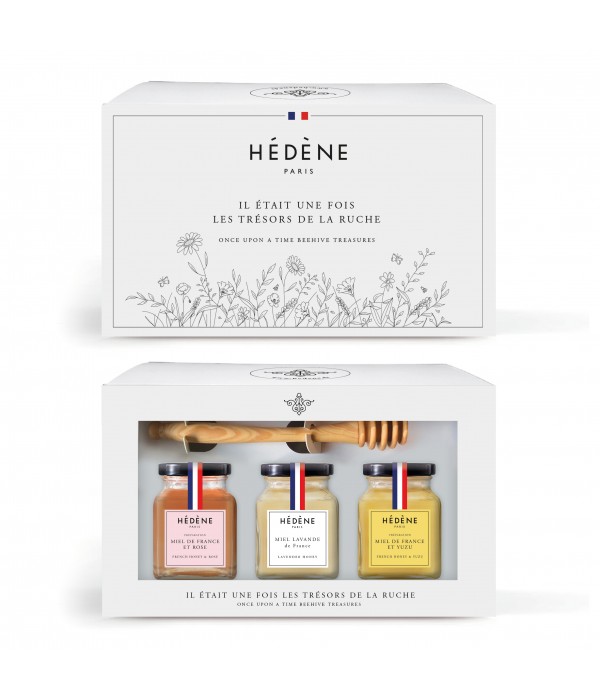 Acacia honey and black truffles Tuber Melanosporum 3%
Delicate and scented
9,38 €
Honey and Chocolate spread
Hédène x Le chocolat des Français
9,38 €