250g
Thyme honey from Spain
Creamy and generously flavored
Hédène Thyme honey is a highly sought-after honey with multiple properties that reveals an intense taste with a slight musky note.
| | |
| --- | --- |
| Espagne | Creamy |
| Scented | Intense |
Description
Hédène thyme honey is a rare honey made from the violet flowers of thyme, a shrub renowned for its difficult cultivation.
Harvested in Spain, where the climate is favourable, Hédène thyme honey is a honey with a golden, even orange-yellow colour. Rare and unique, it is highly sought after for its aromatic notes. Thyme honey has a remarkable length in the mouth, making the palate discover its assertive taste, where beautiful fragrant notes and a small hint of musk intertwine in the aftertaste. Connoisseurs will appreciate the taste characteristics of this honey.
The flowering period of thyme is in May. The harvest can be fluctuating, depending on climatic conditions.
TASTING TIPS – BREAKFAST:
Thyme honey is a real Swiss army knife! It goes well with both sweet and savory mixtures. Mixed with goat cheese, on a toast of bread, thyme honey will do the little extra. But, it will also delight your taste buds in a fruit salad! In addition, you can pair it with a tea or herbal tea such as lemongrass or rosemary.
Price/100g: €5.56
Suggestions you might like
Suggestions
Gift box
Chic and elegant
1,67 €
Thym and green propolis spray
Deliciously fruity
9,38 €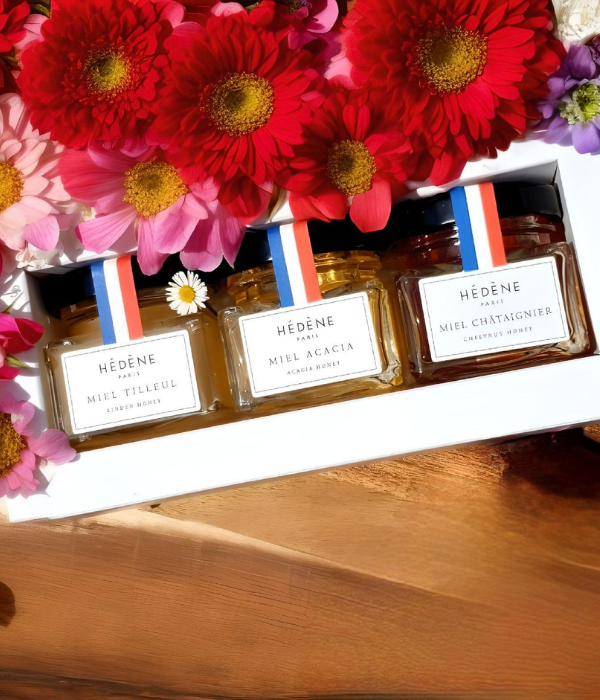 Linden honey from Bourgogne
Fresh and minty
13,18 €